We are committed to reaching children. If we reach them for Christ, they in turn will reach their children. But in reaching and training the next generation, a clear gospel must be at the center of that training.Your prayers and financial gifts will help us accomplish this. Thank you.
Corning Area Bible Club Donation Options
Corning Area Bible Club Camp Scholarship: Make it possible for children and teens with financial need to experience Bible Club Camp.
Corning Area Bible Club General Fund: Your gift will help us continue this vital ministry of reaching boys and girls with the gospel of Christ through Released Time Classes, After School Clubs, and Vacation Bible Schools.
Missionary Support: Corning Area Bible Club missionaries include Jeanne Desposito and Dave & Sandy Mogren.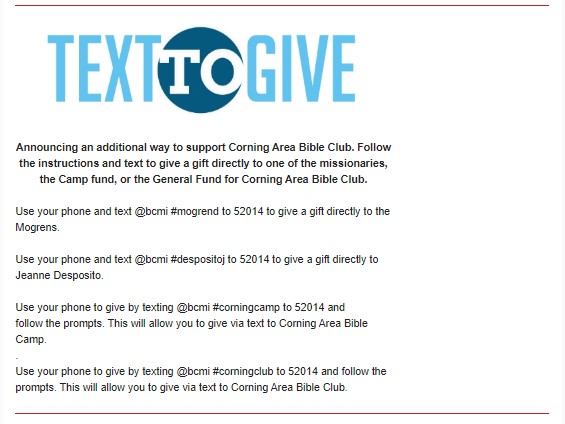 ---